Check out our selection of ideas and recipes for tasty summer dog treats to make your four-legged friend happy on a hot summer's day!
Dog Treats for the Summer
When you're enjoying a nice ice cream or a cold beer on a hot summer's day what about your pooch? It seems unfair when they must be content with a cold bowl of water. Well, this no longer the case. Today there are a lot of ideas out there for summer dog treats that are both tasty and refreshing for your pup. And you need look no further, below we've listed a few of our favourites.
1. Dog Ice Lollies
Dog Ice Lollies, or Pupsicles, are a great way to give your dog a cooling and delicious dog treat that they will love. Plus they are very easy to make. Simply make a beef or chicken stock and pour into an empty ice tray. Then put the ice tray in the freezer and wait until frozen. For an added treat you can even add some chopped pieces of meat, dog food or dog biscuits before putting the tray in the freezer. Serve when entirely frozen much like you would an ice lolly.
2. Dog Ice Cream
Another nice and cooling treat which dogs love is ice cream. However, the kind of ice cream humans eat can be very bad for dogs and so this summer why not make your four legged friend his own special dog treat? It is very simple to make dog ice cream and you can add lots of different flavours and toppings. The simplest recipe is strawberry ice cream. Mix strawberries and yoghurt in a blender and freeze overnight. If you want something a bit more exciting then try banana, peanut butter, honey and yoghurt ice cream. Mash the banana first and warm the peanut butter and then blend all the ingredients and freeze overnight. For an added bonus add bacon sprinkles on top when serving.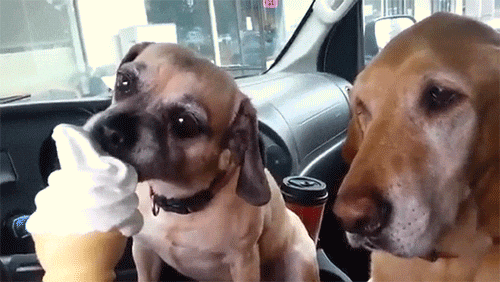 3. Cheeseburger Ice Cubes
Cheeseburger ice cubes really do what they say on the tin. They are surprisingly easy to make and will go down a real storm with your dog. To begin get an empty ice cube tray: don't use your favourite tray as you probably wont be using this again or at least not to make ice in. Then take some cooked ground beef (crumbled up left over burger will do) and put a little bit into each section of the tray. On top of this add a couple of pieces of grated cheese (this step is optional) and finish by filling each section with chicken stock. Put in the freezer and serve when frozen.
4. Peanut butter and bacon dog biscuits
Now we'll admit that these dog treats are not actually specifically for summer but they are such a winner with furry friends that we felt we had to include them in this list. The recipe for peanut butter and bacon dog biscuits is a little bit more complicated than the other recipes but definitely worth it. Add equal measures of peanut butter and water to an egg and a tablespoon of honey. The add chopped pieces of bacon and some shredded carrot. Once you've mixed these together take four times the amount of flour and roll the mixture into a dough form. Then simply cut or roll into biscuit shapes and bake for about half an hour. These can be eaten straight away – once they've cooled down of course – or frozen and saved for a later date if you're dog can bear the wait!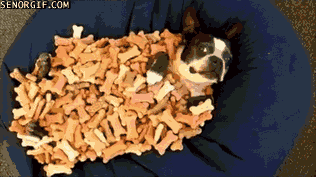 5. Banana and Honey Dog Treats
Another dog biscuit recipe that you're dog will love is banana and honey dog treats and these too can be enjoyed all year round. To make simply mix mashed bananas, water, vanilla extract, egg and honey in a bowl. When these are combined add wholemeal flower and baking powder. Mix again. Then roll out the dough and make into biscuit shapes. Bake in the oven for around 30 minutes or until starting to go golden brown at the edges. Turn off the oven but leave the biscuits inside for another 40 minutes to ensure they get the desired brittle texture. Once this is done remove from the oven and allow to cool fully before serving to your four-legged friend. Latest posts by Lily Guy-Vogel
(see all)